Publications
New Blog Post: 2017 - The year that was!
January 2018
And what a year! It was one of our busiest years and now in 2018, it is an existing year for us – as we will be celebrating our 15th year in business.
For the last 15 years, Grassroutes leisure has been working with the very best caravan parts manufacturers and motorhome product manufacturers. Our often exclusive agreements with parts manufacturers in the UK, Germany, Italy and other European countries ensure we only stock the most premium quality and durable products available. All proven to be ideal for the leisure vehicle sector.
As 2018 kicks into gear, we have a lot of new leisure vehicle products to show you – and lots of new parts manufacturers that we have engaged with.
It's going to be an exciting year!
New Blog Post: Internet while on the move!
December 2017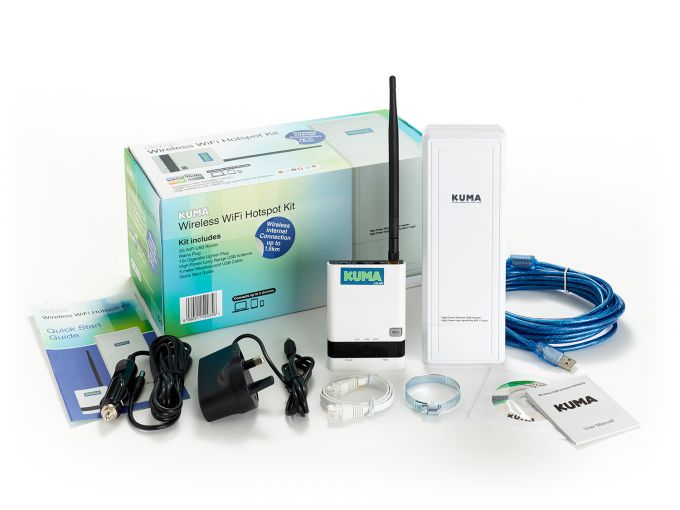 We all want the internet wherever we travel - even though we are not meant to look at the phone while on holiday. Often, when arriving at remote locations and caravan parks, there is either no internet at all, or a pay-for-wifi service available from the main lodge.

Grassroutes Leisure has sourced new products to enable internet to be available in the leisure vehicle.

We launch with two new products:
WiFi booster/repeater - which, as the name suggests, boosts a wifi signal. In more detail, it has an external aerial which you mount and rotate towards the wifi signal. Within the van, there is a small unit which then re-broadcasts the signal over your own private wifi network. This means that if you are accessing a pay wifi service, you only pay for one user (rather than for everyone in the van).
The aerial also picks up the signal from up-to 1.5km away - so makes it a much stronger signal than you could get just using a phone/laptop.
4G Mobile Internet Wifi - which consists of a small external aerial which can be permenatly mounted. It connects to a small internal unit which you insert a sim card into. Then, wherever there is a mobile signal, you can access the internet from within the van. It creates your own private wifi network meaning up-to 5 people can use it at the same time. Like many of the premium car brands, this product now enables you to install a mobile internet service in every van conversion.
Both devices external aerials are completely weatherproof and can be permenantly mounted.
New Blog Post: Official supplier of Vodafone Automotive Products
November 2017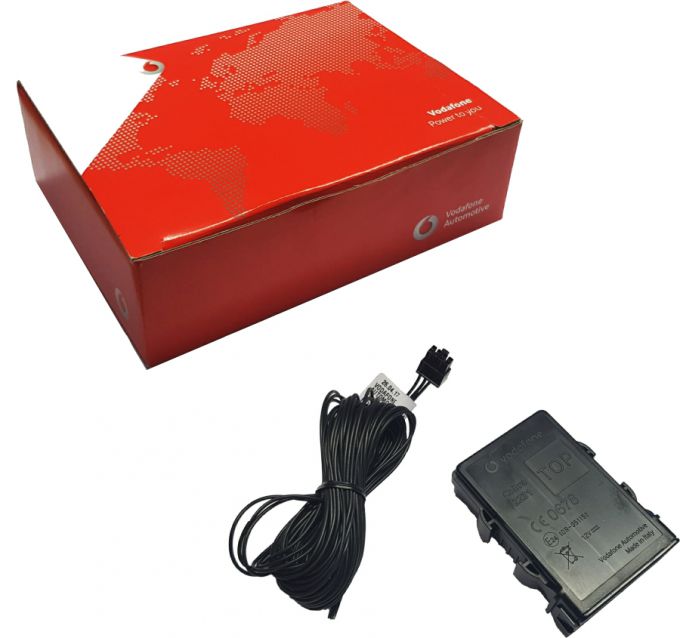 Grassroutes Leisure Ltd are now in partnership with Vodafone Automotive, to bring industry leading tracking devices and other electronic products to the leisure vehicle industry.
We have initially launched with the CAT6 Protect and Connect Tracker. The tracker comes with the first year's tracking included, and monitors and tracks your leisure vehicle 24/7. The tracker is CAT6 accredited (insurance approved) and also features a geo-fencing feature which triggers alerts to your mobile if your leisure vehicle moves outside of a predefined geographical area.
Find out more here
New Blog Post: Our latest Magazine advert
October 2017
Check out our latest magazine advert in Volkswagen Camper and Commercial!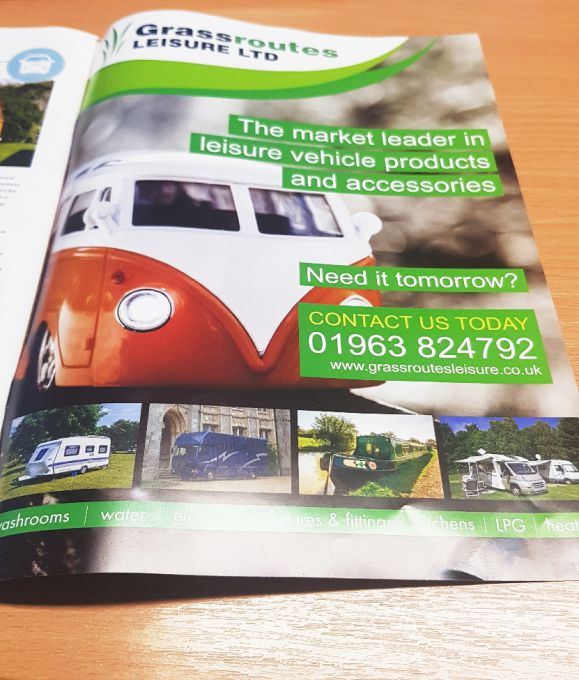 New Blog Post: Our latest brochure
October 2017
It was that time again. Our annual trip uip to Birmingham for the Motorhome and Caravan Show. And it was a good one - lots of new products and innovations. But more about that later.
Every year, we create a specific brochure/catalogue for trade customers at the NEC event. You can check it out here
New Blog Post: New products in stock
September 2017

We pride ourselves in being able to dispatch over 800 products for next day delivery – our trade customers know that they can source products fast and efficiently from us for their next campervan conversion or other leisure vehicle build.
Looking at new products in the last few months, we have sourced some great new sinks and combination sink/hobs to broaden our CAN range. We have also selected some great Parksafe products including parking assist and crashcams for your customers' campervans, motorhomes or horseboxes. See the range on our website here
Winter is drawing in and bringing a chill with it. Luckily, we have a great range of air and water heaters for caravans, campervans and motorhomes from manufacturers including Whale, Propex and MV. Check out our latest in stock range here

New Blog Post: Let's get social [media].
September 2017
Yes – we now have our own twitter feed. It's a good place to check out our latest offers and news. Come and find us @leisurevehicles
New Blog Post: Let's go wireless with QI chargers.
September 2017

Wait. What?

That's right – we are leading the way with technology and gadgets for campervans, caravans and motorhomes. If you have never heard about QI wireless charging, here is the summary:
Some mobile phones have wireless changing capability built in. A lot of the Nokia and Samsung phones (such as the S7 and S8) have it built in. You may have also heard that the new iPhone has just launched with QI charging capability too.

Place the wireless changing compatible phone onto the base plate – and that's it! It starts charging. No more messing around with plugging your phone in. A much safer way to connect. See more about the product here
NEW Blog Post: Purvario Products in Stock
July 2017

We have just got some great stock in from the Purvario storage solutions range. The Purvario Storage System allows you to store and transport those breakable items without damage.
They have a range of different products designed for drawer and cupboard storage. The draw storage allows customers to keep the contents in the drawers while moving, but holding them safely in position and preventing them from moving while in transit. Their products are designed for loose drawer items as well as glasses, tins and other kitchen food containers.
Their cupboard products include plate storage, which safely holds plates while in transit. Simple, flexible and effective solutions.
New Blog Post: The Grassroutes Exclusive Range
April 2017
We have a number of products in stock which are exclusive to customers of Grassroutes Leisure. These include our popular GR50 Vitrifrigo fridge, our range of Sportsflex vehicle lining carpets and also our great range of Vohringer Ply for internal fitouts. We have over 800 products in stock and most have a next day delivery option. Grassroutes Leisure is the market leading trader wholesaler of products and accessories for builders, restorers and renovators of caravans, campervans and motorhomes. As wholesalers, we also supply caravan and campervan product retailers.
Showcasing our Suppliers - Vohringer
March 2017
Grassroutes leisure has a range of exclusive Vohringer ply which we supply to the leisure vehicle building sector.

Taking its name from its manufacturer Vohringer (V-Group), Vohringer ply is a popular and versatile light-weight hard finished veneered ply board, made in Germany. It has been traditionally used for interior furniture in motorhomes, caravans, campervans and even horseboxes since 1971. Vohringer ply is available in two thicknesses 15 mm and 3 mm.

Vohringer takes pride in being environmentally friendly and only use sustainable products using renewable materials from organically cultivated forests where forest depletion is avoided. Their production methods are performed with environmentally friendly and renewable raw materials. All of Vohringer's partners are being certified to the Forest Stewardship Council's standards of environmental quality.

Vohringer ply is a proven product and does not delaminate over time. The manufacturing process has been developed over 40 years and uses PUR hot melt glue that is water resistant and the latest laminating machinery and highly skilled staff. Only Ilomba/ Poplar plywood from Italy and Spain with a density of just 470 kg/m3 is used, making Vohringer ply easy to cut. Using Vohringer Ply for your leisure vehicle builds can only enhance and add value to these builds.
We hold large stocks of Vohringer ply and can offer a choice of twenty colours including Beech, Sand Zebrano, Grey Zebrano, Walnut, American Cherry, maple, Light Oak, Makassar, Driftwood, Carbon, Gloss White, Gloss Black, Putinella, Titanium, Terrano Grey, Ice Blue, Hellgrau, Pistachio and Graffiti Grey